Lead Editor – Dana Beezley-Smith, Ph.D.
Topic Outline
a. Overview
b. Health IT News
c. Health IT Legislation
d. Electronic Health Records (EHRs)
e. Telemedicine
f.  Health IT and Hospitals
g. Resources
Overview
The adoption of various forms of health information technology (HIT) may have disparate impacts, including improvements in access/continuity of care, quality, patient satisfaction or privacy of medical information.  However, a principal motivation for pursuing HIT is the expectation that it will lead to system efficiencies that result in net savings in the short run or long run.  Because most HIT innovations have multiple effects, this section examines the benefits and costs of a full range of HIT innovations for which there is real-world evidence even if their purpose or impact might be quality improvement at the expense of cost containment.  Discussion of health reform policy proposals related to HIT (i.e., policy options under discussion and not yet adopted or implemented) is contained at Health IT under Health Reform, Components of Reform, Cost Containment.
Health IT News
Fifteen Game-Changing Wireless Devices to Improve Patient Care. Cardiac electrophysiologist David Lee Scher, MD, clinical associate professor of medicine at Penn State University, director of a digital health consulting firm, avid blogger on mobile health issues, and chairman of the Healthcare Information and Management Systems Society (HIMSS) Mobile Health Roadmap Task Force, points to 15 potential game changers in mobile health technology that hold the promise of revolutionizing patient care in hospitals, in nursing homes, and at home. (Medscape, 10.23.14)
Electronic Health Records (EHRs)
Meaningful Use Program 
Meaningful Use (MU) is a Center for Medicare & Medicaid Services program that pays an incentive for "meaningful use" of an electronic health record (EHR). It is a separate program from PQRS (Physician Quality Reporting System). Those eligible for the Meaningful Use include doctors of medicine or osteopathy, dental surgery or dental medicine, podiatry, optometry, and chiropractic. (NOTE:  Those attesting to Meaningful Use also submit PQRS Quality Measures in addition to MU and receive a PQRS Incentive payment. Those who don't participate in PQRS will receive a 2% penalty in 2016.) Meaningful use is defined as use of certified electronic health record (EHR) technology to: Improve quality, safety, efficiency, and reduce health disparities; Engage patients and family; Improve care coordination, and population and public health; Maintain privacy and security of patient health information.
Ultimately, it is hoped that the meaningful use compliance will result in: Better clinical outcomes; Improved population health outcomes; Increased transparency and efficiency; Empowered individuals; More robust research data on health systems.
Stages of Meaningful Use
2011-2012 Stage 1: Data capture and sharing
2014 Stage 2: Advance clinical processes
2016 Stage 3: Improved outcomes
Stage 1 EHR Meaningful Use Requirements
Use of a certified EHR in a meaningful manner (e.g. e-prescribing)

Use of a certified EHR for electronic exchange of health information to improve the quality of health care

Use of certified EHR technology to submit clinical quality measures (CQM).
Qualifying for Stage 1 Meaningful Use of an electronic health record (EHR) means that:
The EHR meets all

20 objectives

for meaningful use.
Six

clinical quality measures

are reported.

The EHR and has been in use for at least 90 days during the first year and 12 months for all subsequent years.

Three core measures plus three additional measures must be reported. If the provider does not qualify for the three core measures, three alternate core measures must be reported.
Stage 1 EHR Meaningful Use Specification Sheets. The Centers for Medicare & Medicaid Services (CMS), which administers the Medicare and Medicaid EHR Incentive Programs, provides these sheets to help professionals and hospitals understand the requirements of each objective and demonstrate meaningful use successfully.
Stage 2 EHR Meaningful Use 
On September 4 2012, CMS published a final rule that specifies the Stage 2 criteria that eligible professionals (EPs), eligible hospitals, and critical access hospitals (CAHs) must meet in order to continue to participate in the Medicare and Medicaid Electronic Health Record (EHR) Incentive Programs. All providers must achieve meaningful use under the Stage 1 criteria for two years before moving to Stage 2.
To help providers better understand Stage 2 Meaningful Use requirements, CMS developed Stage 2 Meaningful Use Specification Sheets for EPs and Eligible Hospitals that provide detailed information on each Stage 2 objective.
EHR News and Analysis
In another study that examined EHR adoption in office settings, only four in 10 physicians had any electronic exchange with other health providers, and one in seven exchanged clinical data with providers outside their organization.
Both studies found that in some respects, the more resources available to a hospital or an office, the more likely they were to have already implemented EHRs. In the study that focused on hospitals, more than half of all rural hospital respondents said they had 'less than basic' EHR implementation in 2013. In the study dedicated to office-based care, solo practitioners and specialty physicians lagged behind larger practices or primary care physician.

Even with ONC and the Centers for Medicare and Medicaid Services delivering marching orders for providers to follow, Somplasky said smaller practices are considering taking the financial penalties that come with failing to meet the HHS meaningful use goals." (

FedScoop, 8.20.14

)
Telemedicine
Health IT and Hospitals
The Healthcare Chief Information Officer MindMap. "It's a beautiful display of everything that's happening in healthcare IT. Although, it's also an illustration of the challenge we hospital CIOs face. Is it any wonder that so many hospital CIOs feel overwhelmed?" (

EMR and HIPAA. 4.8.14

)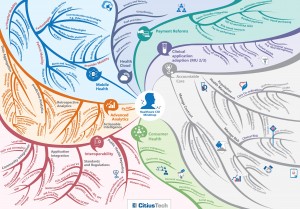 Expert: U.S. Hospital Breach Biggest Yet to Exploit Heartbleed Bug. "Hackers who stole the personal data of about 4.5 million patients of hospital group

Community Health Systems

Inc broke into the company's computer system by exploiting the "Heartbleed" internet bug, making it the first known large-scale cyber attack using the flaw, according to a security expert…Community Health Systems, one of the biggest U.S. hospital groups, said the information stolen included patient names, addresses, birth dates, phone numbers and social security numbers of people who were referred or received services from doctors affiliated with the company over the last five years." (

Reuters, 8.20.14

)
Resources