Lead Editor – Dana Beezley-Smith, Ph.D.
Overview
The adoption of various forms of health information technology (HIT) may have disparate impacts, including improvements in access/continuity of care, quality, patient satisfaction or privacy of medical information.  However, a principal motivation for pursuing HIT is the expectation that it will lead to system efficiencies that result in net savings in the short run or long run.  Because most HIT innovations have multiple effects, this section examines the benefits and costs of a full range of HIT innovations for which there is real-world evidence even if their purpose or impact might be quality improvement at the expense of cost containment.  Discussion of health reform policy proposals related to HIT (i.e., policy options under discussion and not yet adopted or implemented) is contained at Health IT under Health Reform, Components of Reform, Cost Containment.
Health IT News and Analysis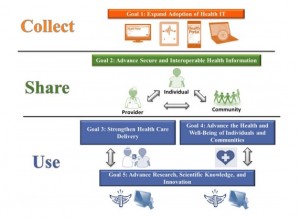 "The report includes a comprehensive list of all departments and agencies involved."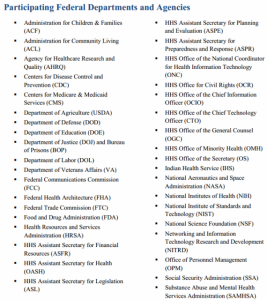 (The Weekly Standard, 12.9.14)
Omnibus Bill Keeps ONC Funding at Same Level as 2014. "In its 'Congressional Asks'—formal requests to Congress to accomplish specific goals to advance health IT–HIMSS urged lawmakers to fund ONC at the higher level. It calls this fourth year and Stage 2 of Meaningful Use a 'critical juncture' for the adoption and effective use of EHRs, citing the need to maintain the momentum achieved so far." (Fierce Health IT, 12.15.14)
The Tyranny of the Should. "In the UK, it appears the NHS will have a 'huge rollout' of wearable technology as part of a 'revolution in self care.' Being able to monitor patients remotely, especially those with a chronic condition, is admirable. If entities in healthcare will be able to monitor us remotely, surely that's always going to be a good thing? Perhaps not. Given the huge financial pressures facing the NHS over the next 20 years, we may have to ration access to care. In the future, could all this data collected about our behaviour be used to ration or even deny care? I'm not the only one who is asking that question. In a great article by Hamza Shaban examining the impact of sensors collecting data about our health on the pricing of health insurance, one sentence stands out, 'Imagine a pricing scheme that would punish sleep-deprived single parents or the dietary habits of the working poor.' A world where our health insurance premiums decline when we behave within the guidelines, and rise when we deviate from the guidelines…Today, the National Institutes of Health announced it's searching for a wearable or otherwise discreet device capable of measuring blood alcohol level in real time. There is a fine line between 'Digital Nudges' and 'The tyranny of the Should' – and it's not clear to me that we're having the right conversations in the right places." (Juneja, Maneesh, 3.2.15)
Roll Back the Federal 10-Year Strategic Plan for Health Information Technology: Statement for the Record. "A 2014 report for the RAND Corporation also concluded the federal [HITECH] money was invested poorly: 'Unfortunately, the rules that the U.S. Department of Health and Human Services (HHS) issued to guide implementation of HITECH watered down the requirement for connectivity. The practical effect was to promote adoption of existing platforms, rather than encourage the development of interconnected systems. Although large vendors and many health care systems welcomed this decision, it was criticized by others. By subsidizing "where the industry" is rather than where it needed to go, HHS rule-makers allowed hospitals and health care providers to use billions in federal subsidies to purchase EHRs that did not have the level of connectivity envisioned by the authors of the HITECH act.'…As HIT expands in unpredictable directions, the federal government should exert a humble and light regulatory touch; and refrain from the temptation to spend more money to encourage the types of technologies preferred by the government, instead of patients and providers. The billions of dollars in capital being invested in HIT must be allowed to find their own course to success." Graham, John R. (NCPA, 3.17.15) 
Electronic Health Records (EHRs)
Meaningful Use Program 
CMS (Update, 10.6.15): The American Recovery and Reinvestment Act of 2009 (ARRA) (Pub.L. 111–5) was enacted on February 17, 2009. Title IV of Division B of ARRA amends Titles XVIII and XIX of the Social Security Act (the Act) by establishing incentive payments to eligible professionals (EPs), eligible hospitals, and critical access hospitals (CAHs), and Medicare Advantage Organizations to promote the adoption and meaningful use of interoperable health information technology (HIT) and qualified electronic health records (EHRs). These incentive payments are part of a broader effort under the HITECH Act to accelerate the adoption of HIT and utilization of qualified EHRs. Meaningful Use (MU) is a Center for Medicare & Medicaid Services program that pays an incentive for "meaningful use" of an electronic health record (EHR). It is a separate program from PQRS (Physician Quality Reporting System). Those eligible for the Meaningful Use include doctors of medicine or osteopathy, dental surgery or dental medicine, podiatry, optometry, and chiropractic. Meaningful use is defined as use of certified electronic health record (EHR) technology to: Improve quality, safety, efficiency, and reduce health disparities; Engage patients and family; Improve care coordination, and population and public health; Maintain privacy and security of patient health information.
 
Stages of Meaningful Use
2011-2012 Stage 1: Data capture and sharing
2014 Stage 2: Advance clinical processes
2016 Stage 3: Improved outcomes
Stage 1 EHR Meaningful Use Requirements
Use of a certified EHR in a meaningful manner (e.g. e-prescribing)

Use of a certified EHR for electronic exchange of health information to improve the quality of health care

Use of certified EHR technology to submit clinical quality measures (CQM).
Qualifying for Stage 1 Meaningful Use of an electronic health record (EHR) means that:
The EHR meets all 20 objectives for meaningful use.
Six clinical quality measures are reported.

The EHR and has been in use for at least 90 days during the first year and 12 months for all subsequent years.

Three core measures plus three additional measures must be reported. If the provider does not qualify for the three core measures, three alternate core measures must be reported. 

List of core and alternate measures.
Stage 1 EHR Meaningful Use Specification Sheets. The Centers for Medicare & Medicaid Services (CMS), which administers the Medicare and Medicaid EHR Incentive Programs, provides these sheets to help professionals and hospitals understand the requirements of each objective and demonstrate meaningful use successfully.
Stage 2 EHR Meaningful Use 
On September 4 2012, CMS published a final rule that specifies the Stage 2 criteria that eligible professionals (EPs), eligible hospitals, and critical access hospitals (CAHs) must meet in order to continue to participate in the Medicare and Medicaid Electronic Health Record (EHR) Incentive Programs. All providers must achieve meaningful use under the Stage 1 criteria for two years before moving to Stage 2.
To help providers better understand Stage 2 Meaningful Use requirements, CMS developed Stage 2 Meaningful Use Specification Sheets for EPs and Eligible Hospitals that provide detailed information on each Stage 2 objective.
Stage 3 EHR Meaningful Use
For Stage 3 of the EHR Incentive Programs in 2017 and subsequent years, major provisions include:
8 objectives for eligible professionals, eligible hospitals, and CAHs:  In Stage 3, more than 60 percent of the proposed measures require interoperability, up from 33 percent in Stage 2.

Public health reporting with flexible options for measure selection.

CQM reporting aligned with the CMS quality reporting programs.

Finalize the use of application program interfaces (APIs) that enable the development of new functionalities to build bridges across systems and provide increased data access. This will help patients have unprecedented access to their own health records, empowering individuals to make key health decisions.
All providers will be required to comply with Stage 3 requirements beginning in 2018 using EHR technology certified to the 2015 Edition. The Stage 3 requirements are optional in 2017. Providers who choose to begin Stage 3 in 2017 will have a 90-day reporting period. Objectives and measures for Stage 3 include increased thresholds, advanced use of health information exchange functionality, and an overall focus on continuous quality improvement.
CMS restructured the objectives and measures of the EHR Incentive Programs in 2015 through 2017 to align with Stage 3, and modified "patient action" measures in Stage 2 objectives. 
CMS announced on 10.6.15 a 60-day public comment period to facilitate additional feedback about Stage 3 of the EHR Incentive Programs going forward, in particular with the Medicare Access and CHIP Reauthorization Act of 2015 (MACRA), which established the Merit-based Incentive Payment System (MIPS) and consolidates certain aspects of a number of quality measurement and federal incentive programs into one more efficient framework. (Center for Medicare and Medicaid Services, 10.6.15)
Health Information Exchanges
National Health Information Exchange: Why The Delay?"A public-private consortium is putting in place a system that should provide interoperability among disparate EHR systems and HIEs. If it's successful, it will provide plug-and-play connectivity between EHRs and HIEs and between HIEs. This initiative would drastically cut the expense of interfaces and would let more than half of the U.S population and their healthcare providers access health data shared among multiple states and systems…Healtheway, the new private-sector entity that operates the eHealth Exchange (successor to the Nationwide Health Information Network), has partnered with a consortium of states, EHR vendors, and HIE vendors to implement standards that will make it easier to exchange health information. Despite this progress, there's at least one issue no one wants to touch: the individual patient identifier code. (InformationWeek Healthcare, 11.5.12)
Telemedicine
Telepsychology
Health IT and Hospitals
The Healthcare Chief Information Officer MindMap. "It's a beautiful display of everything that's happening in healthcare IT. Although, it's also an illustration of the challenge we hospital CIOs face. Is it any wonder that so many hospital CIOs feel overwhelmed?" (EMR and HIPAA. 4.8.14)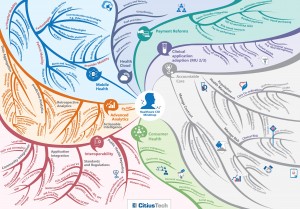 Expert: U.S. Hospital Breach Biggest Yet to Exploit Heartbleed Bug. "Hackers who stole the personal data of about 4.5 million patients of hospital group Community Health Systems Inc broke into the company's computer system by exploiting the "Heartbleed" internet bug, making it the first known large-scale cyber attack using the flaw, according to a security expert…Community Health Systems, one of the biggest U.S. hospital groups, said the information stolen included patient names, addresses, birth dates, phone numbers and social security numbers of people who were referred or received services from doctors affiliated with the company over the last five years." (Reuters, 8.20.14)
Resources