Lead Editor - Dana Beezley-Smith, Ph.D.
Topic Outline
1. Overview
3. Electronic Health Records
4. Telemedicine
5. Impact of Health IT Program Implementation
6. Resources
Overview
The adoption of various forms of health information technology (HIT) may have disparate impacts, including improvements in access/continuity of care, quality, patient satisfaction or privacy of medical information.  However, a principal motivation for pursuing HIT is the expectation that it will lead to system efficiencies that result in net savings in the short run or long run.  Because most HIT innovations have multiple effects, this section examines the benefits and costs of a full range of HIT innovations for which there is real-world evidence even if their purpose or impact might be quality improvement at the expense of cost containment.  Discussion of health reform policy proposals related to HIT (i.e., policy options under discussion and not yet adopted or implemented) is contained at Health IT under Health Reform, Components of Reform, Cost Containment.
Electronic Health Records (EHRs)
Meaningful Use Program 
Meaningful Use (MU) is a Center for Medicare & Medicaid Services program that pays an incentive for "meaningful use" of an electronic health record (EHR). It is a separate program from PQRS (Physician Quality Reporting System). Those eligible for the Meaningful Use include doctors of medicine or osteopathy, dental surgery or dental medicine, podiatry, optometry, and chiropractic. (NOTE:  Those attesting to Meaningful Use also submit PQRS Quality Measures in addition to MU and receive a PQRS Incentive payment. Those who don't participate in PQRS will receive a 2% penalty in 2016.) Meaningful use is defined as use of certified electronic health record (EHR) technology to: Improve quality, safety, efficiency, and reduce health disparities; Engage patients and family; Improve care coordination, and population and public health; Maintain privacy and security of patient health information.
Ultimately, it is hoped that the meaningful use compliance will result in: Better clinical outcomes; Improved population health outcomes; Increased transparency and efficiency; Empowered individuals; More robust research data on health systems.
Stages of Meaningful Use
2011-2012 Stage 1: Data capture and sharing
2014 Stage 2: Advance clinical processes
2016 Stage 3: Improved outcomes
Stage 1 EHR Meaningful Use 
Requirements

Use of a certified EHR in a meaningful manner (e.g. e-prescribing)

Use of a certified EHR for electronic exchange of health information to improve the quality of health care

Use of certified EHR technology to submit clinical quality measures (CQM).
Qualifying for Stage 1 meaningful use of an electronic health record (EHR) means that
The EHR meets all

20 objectives

for meaningful use.
Six

clinical quality measures

are reported.

The EHR and has been in use for at least 90 days during the first year and 12 months for all subsequent years.

Three core measures plus three additional measures must be reported. If the provider does not qualify for the three core measures, three alternate core measures must be reported.

Stage 1 EHR Meaningful Use Specification Sheets. The Centers for Medicare & Medicaid Services (CMS), which administers the

Medicare and Medicaid EHR Incentive Programs,

provides these sheets to help professionals and hospitals understand the requirements of each objective and demonstrate meaningful use successfully.
Stage 2 EHR Meaningful Use 
On September 4 2012, CMS published a final rule that specifies the Stage 2 criteria that eligible professionals (EPs), eligible hospitals, and critical access hospitals (CAHs) must meet in order to continue to participate in the Medicare and Medicaid Electronic Health Record (EHR) Incentive Programs. All providers must achieve meaningful use under the Stage 1 criteria for two years before moving to Stage 2.
To help providers better understand Stage 2 Meaningful Use requirements, CMS developed Stage 2 Meaningful Use Specification Sheets for EPs and Eligible Hospitals that provide detailed information on each Stage 2 objective.
Meaningful Use News
e-Prescribing. Over Half of Prescriptions Go Online for First Time in 2013. "For the first time, the majority of US prescriptions — not including those for controlled substances — were routed electronically to pharmacies through

Surescripts in 2013

, according to the company's National Progress Report on health information technology (IT). That's more than one billion prescriptions, or 58% of all noncontrolled-substance, eligible prescriptions written last year. Passing the halfway mark is a 'large milestone,' said Steven Waldren, MD, senior strategist for t the American Academy of Family Physicians' (AAFP) Center for Health IT. 'I think it demonstrates that we've solved the e-prescribing part of interoperability.'" (

Medscape Medical News, 5.23.14

)
Docs Ask for Delay in Hardship Deadline for EHR Meaningful Use. Last week, the American Medical Association (AMA) and the Medical Group Management Association (MGMA) asked the Centers for Medicare & Medicaid Services (CMS) to delay a July 1 deadline for submitting a hardship exception application that could spare physicians a 1% Medicare penalty in 2015 for failing to demonstrate EHR meaningful use. That penalty applies specifically to physicians who have not previously achieved meaningful use before 2014 and who fail to do so this year as well. The penalty increases to 2% in 2016 for physicians who successfully achieved meaningful use in a previous year, but not in 2014. The deadline for requesting a hardship exception for the 2016 penalty is July 1, 2015. (

Medscape Medical News, 6.30.14

)
Medscape EHR Report 2014, July 15, 2014. Medscape invited physicians to participate in a survey of current EHR use; 18,575 physicians across 25 specialties responded during the period from April 9, 2014, through June 3, 2014. Ffty-six percent were employed in a hospital or health system

Effect on Practice Operations: Despite complaints that EHRs make documentation too burdensome, 63% of our respondents said that an EHR improves documentation, and 39% felt that EHRs improve collections. Thirty-four percent of participating doctors maintained that an EHR improves clinical operations, yet 35% said it worsens them. Thirty-two percent felt that an EHR improves patient service; 38% said it worsened patient service.
Effect on Patient Encounters: Seventy percent of respondents said the EHR decreases their face-to-face time with patients, and 57% said it decreases their ability to see patients. Still, 35% said the EHR improves their ability to respond to patient issues, and 33% said it allows them to more effectively manage patient treatment plans.
Use Over Time: Eighty-one percent of respondents agree that their EHRs have become easier and more comfortable to use over time.
Patient Privacy Concerns: In the 2012 Medscape EHR Report, 77% of participating physicians said they had no patient privacy concerns. In 2014, only 17% of survey participants said they had no EHR-related patient privacy concerns.
Where Do Physician Stand on Meaningful Use? Seventy-eight percent of participating physicians said they were attesting to meaningful use Stage 1 or Stage 2 in 2014. Sixteen percent said they will never attest to meaningful use requirements, and another 6% of participants said they are abandoning meaningful use after meeting the requirements in previous years. Thus, 22% of physicians surveyed this year are opting out of or disregarding the meaningful use program.
Cost per Physician to Purchase and Install: Almost a quarter (23%) of respondents said their EHR system cost over $50,000 per physician to install. More than half of the respondents were unaware of the cost of the EHR.
Monthly Fees per Physician for a Web-Based EHR System: In 2012, only 4% of survey respondents said they were paying over $700 per month for monthly fees; in 2014, 12% are paying that amount.

Why Physicians Don't Use an EHR

 (Note: Respondents were allowed to choose more than one answer.) 

EHRs interfere with the doctor-patient relationship (40% of responses).

EHRs are too expensive (37% of responses). Besides the cost of the EHR, there are expenses involved in switching all current paper records to electronic records and lost work time during the transition and switchover. For doctors nearing the end of their careers, the cost and effort are not worth it.

The incentives offered and penalties levied by the CMS aren't worth the hassle of adopting an EHR (32% of responses). 
Telemedicine
Impact of Health IT Program Implementation
The Healthcare Chief Information Officer MindMap. "It's a beautiful display of everything that's happening in healthcare IT. Although, it's also an illustration of the challenge we and hospital CIOs face. Is it any wonder that so many hospital CIOs feel overwhelmed?" (

EMR and HIPAA. 4.8.14

)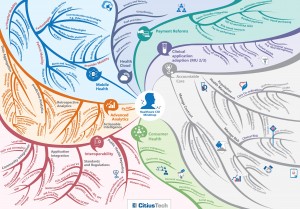 Resources